5 South India Tour Destinations You Must Never Miss
It is almost a plainchant of greenery and mountains when you decide to take a trip to South Indian destinations. The easy-to-hardest trekking spots, amazing waterfalls, scintillating forests, alluring tea estate routes and architecturally perfect forts & temples are spread across states. The part is the beautiful amalgamation of Western Ghats forest and seashore planets.
Today, let us read the chits of a few marvellous south Indian trekking and touring spots:
Dudhsagar Waterfalls Trek – Goa
Dudhsagar Waterfalls is a 4-tiered fall set at the height of 310 meters on Mondovi River in the state of Goa almost at the border of Karnataka and Kerala. On multiple glances, the fall looks like the sea of milk which justifies its name.
The trek is here for all trekkers, nature lovers and anyone who would like to set an abode amidst picturesque view of surroundings. You can take the forest route of Western Ghats to arrive at the dreamy world of exotic views adorned with dense lush green and occasional spots of wildlife creatures. Quite an exciting map for the first South India destination!
Sakleshpur Trek – Karnataka
Particularly Agni Gudda in Sakleshpur has been the best trekking destinations for all the frequent as well as neophytes. The Agni Gudda Hills, which means Fiery Mountain, can give a sunrise or sunset view on the coast at one side and the lush green landscape view of rice paddles and forest.
Sakleshpur trek is also famous for Manjarabad Fort, constructed by Tipu Sultan, which was used for strategic defence area. While you are on your way to reaching the top of the mountain, you can spot beautiful Magajahalli Waterfalls or Abbi falls which can add to the song of nature with 20 feet high cascade sound. Can you hear it now?
Canopy Hills Camping in Vattakanal – Tamil Nadu
They say that gone are the days when you could rejoice the silence of jungle but Canopy Hills Camping proves them wrong. Situated in Vattakanal, Canopy Hills tour brings back the musical journey waterfalls, green grass covered mountains, bird spots and wildlife creatures amidst the mild cold shiny weather under the moving clouds.
The idea of setting campfire in this amazing climate could heal you from any of your bad memories and reinvigorate the new life in you.
Cycling Tour to Wayanad – Kerala
Cycling is one of the best to explore the cultural and natural background of any place and Wayanad cycling tour aims exactly the same. This 25-30 kms of paddling on the road, street and sloppy lanes amidst coffee plantation and tea estates would let you get away from the usual mishmash of your life. In the way, you will take a glance at mesmerizing green forests, wildlife and waterfalls.
Nagalapuram Camping – Andhra Pradesh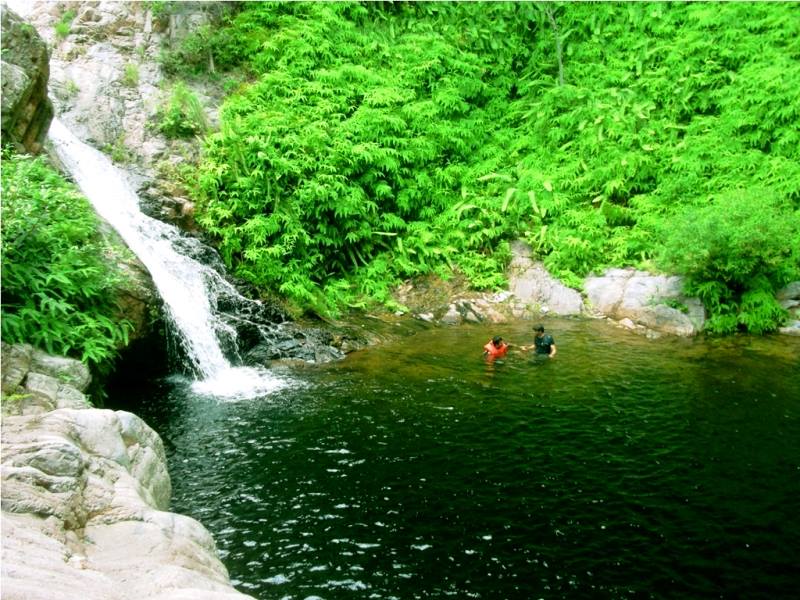 Oh don't retreat, we haven't covered Andhra Pradesh yet! Nagalapuram is one of the hailed destinations by all regular trekkers for camping, exploration and scenic view. Situated in Chittoor district, the place is famous for Vedanarayana Swamy temple.
Nagalapuram camping opens up with the mysterious dense Eastern Ghats forest visit followed by Nagalapuram falls for relaxation and panoramic view at the top of the mountain. A best a place to visit with friends and family!
In any of our trips, our expert team ensures your safety and technical assistance while you learn to gel with your team in many different adventure sports.
Book one of our trekking trips such as Dudhsagar Waterfalls Trek and Anthargange Camping to experience the joy of walking amidst mountains and exploring jungle for a charismatic view of waterfalls.
During the trekking trips, our expert team guides you through all the important routes with full information about the places while protecting you from any upcoming danger.
Total Views: 2416 ,