8 Adventure Activities to Warm You Up in Monsoon
Finally, we are blessed with monsoon season wherein we are showered with occasional rains, breezy wind and romantic chill (if it applies to you). But instead of going out enjoying the elating time what we do, we pass on this magnificent time to a group of birds flying away in the sky. Why? Because we are afraid of getting cold and bad health!
Wait no more, as we are introducing a bunch of adventure activities which can warm you up in the monsoon season and embellish your life in different shades.
ATV Quad Biking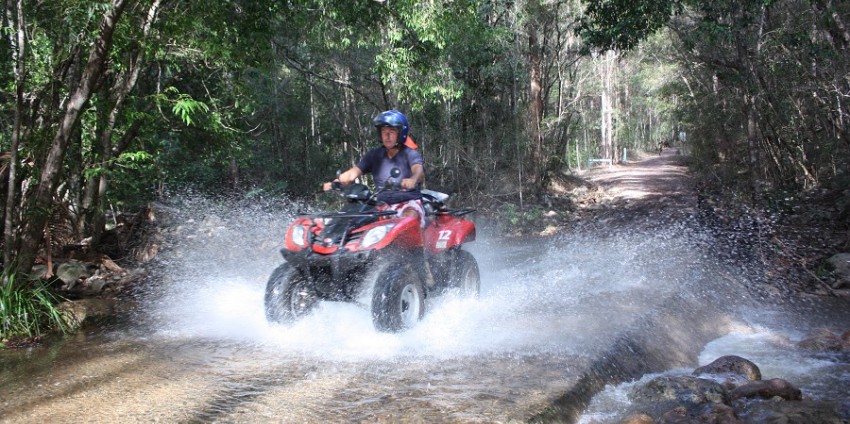 All Terrain Vehicle (ATV) Quad Biking is about driving through ups and downs with no sweat. ATV Bike is especially made to run on any kind of surface, be it smooth ground, muddy field or sloppy hillocks. You don't need much experience in biking to go behind the wheels and control the steering on an off-road track.
The participant's age must be 12 yrs or above to attempt this adventure.
Go Karting
The mini version of formula1 race car model, Karting attracts lots of people for its racing track with the high-speed rush on minimum control to paddle. This adventure sport can turn out to be lots of fun among friends and family. Though there are no dangers of any kind in attempting this activity, the supporting staffs equip the participants with helmets and other major safety tools.
Paintball
Paintball is the live-action version of two teams battling with their paint guns and winning the empire. Come with your troops and you will be provided with a gun and the Paintball as a bullet. All you need to do is to strategize among team members to get the opponent's flag without getting hit by the bullet. Of course, there will be a referee to resolve any disputes between the teams. Pumped up yet?
Rappelling
Rappelling is a simple activity where you have to climb down from a small peak or specially created wall with the help of a rope. Do you think it's easy? Then, stay at the top of the rock and experience fear and excitement when you are hanging in the middle of the way. The safety jacket will always be on and the technical staff will stay right by your side for any assistance.
Jumaring
Coming to the challenging among all, Jumaring teaches you to pull yourself when you are down. The activity demands a participant to climb in a single rope using two ascending devices, one for hands and two nylon ladders called, aiders, for feet. It needs your energy, stamina and patience.
Wall Climbing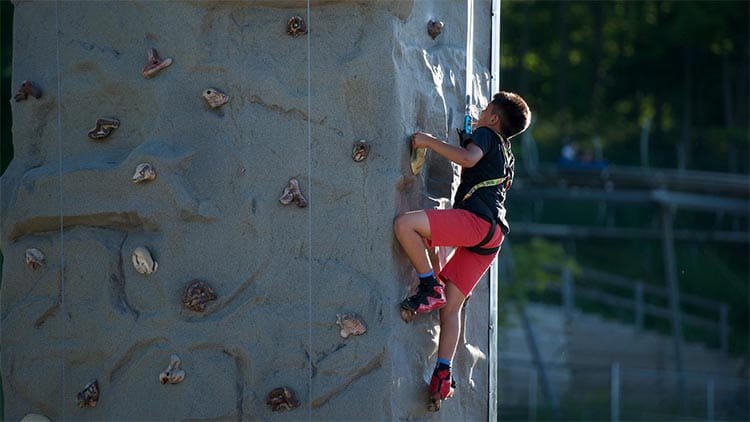 Just climb on the vertical wall or a rock by using slots to reach the top. You will be hinged on a rope with a safety jacket. Wall Climbing looks simple but incredibly tough to pull off if you are not sporty in nature.
Kayaking
Kayaking is an art of boating which you can learn in a few minutes from following instructions from the guide and mistakes you do at the beginning. Take your kayak boat in the water and use the paddle to move forward. The activity is not the test of your strength; it depends on your technique.
Our supporting staff will be dear to you for any kind of assistance and won't let you strain for the techniques and tricks. Instead, they will be patient enough to teach you basics of kayaking such as types of kayak boat, how to paddle, how to tackle still/upwards/downwards stream, etc.
Rocket Ejector
Saving the best for the last – Rocket Ejector!
Remember when we played the catapult to birds or plucking fruits in our childhood? The rocket ejector is the zoom out version of that catapult where the rock is replaced by a human. The only difference is that you will be glued to the rope hinged from both sides. Once your body is ejected into the air a few seconds, you will have a chance to forget all your fear and display your acrobatic moves such as flip and roll. Enjoy the weightlessness and feel the adrenaline rush.
In any of our trips, our expert team ensures your safety and technical assistance while you learn to gel with your team in many different adventure sports.
Total Views: 3231 ,