5 Best Paintball Fun Tours In Bangalore.
The finger-crossing moments are those when you come out from the hidden space with your loaded paintball gun after the near perfect calculation of your opponent's position and you nail them down in a moment! And that kind of stress-buster you would find in a paintball shooting game.
If we compare the corporate world with paintball games there would be many similarities we could discover. You keep moving with the pace of your team and the highly organized troop will finish the goal of capturing the flag. Yes, paintball shooting helps building the connection among the members and strengthens it to achieve the target with enormous amount of fun and joy!
In short, Paintball game is a high-octane rush to run forward, escape the woodsball, hide, shoot and repeat!
So, are you excited to wear the camouflage with chest guard, hold your paintball marker loaded with paintballs and come out to fire at your opponent after fixing your mask? If yes, then below you can check 5 outing tours to go for paintball shooting Bangalore.
Ramanagar Corporate Outing
Just 50 kms away from Bangalore, Ramanagar is a pivot point of almost all the adventurous getaways including trekking around Bangalore, rock climbing, rappelling, kayaking and paintball shooting. Ramanagara trek is one of the best trekking places in Karnataka.
The paintball zone will be amidst forest and your hideout points will be rocks and trees. Interesting, isn't it?
Give this place a try where you, along with your teammates are pushed to a real war scenario with the colorful paintball guns for an ultimate smackdown of your stress!
Manchinbele Corporate Outing
Here paintball game is not just about random running, hiding, pointing and shooting. It brings out the fun element from structured game plays and defined roles to boost your team bonding.
In Chamarajsagar, apart from various adventure near Bangalore, you can go for paintball shooting just after lunch during the rejuvenating corporate outing. So, forget everything for those hours, your client, your hectic schedule, your deadlines, your project and even your cubicles. All you are supposed to remember is how many paintballs you have in your guns and where your team is! Easy enough?
Manchinabele Back Water 2 Days Camp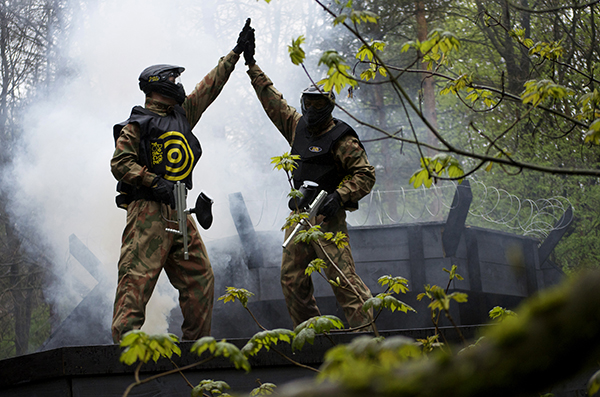 If you want to go for best water sports near Bangalore, Manchinabele Lake is one of the best destinations. As a part of team bonding activities, paintball shooting game is quite a delight to de-stress you out from your daily life. Here you and your colleagues, in a nicely dressed up uniform, are divided into two teams with masks and paintball gun to execute the thoughtful strategy. At the end, better bonded team could capture the flag of opponents.
Savandurga and Manchinabele Combo Day Outing
This day outing combines Savandurga trek and Manchinabele trek including multiple adventure activities near Bangalore.
Freshen up your morning with paintball game that will cheer your inner energy. You've contributed tremendous amount of effort at your work and here is the chance to showcase that you are always a team-man whether it's your project completion deadline or battlefield of paintball shooting. Get ready with your suit!
Savandurga Day Outing
After lunch near Savandurga hill, pick the perfect team-bonding activity, paintball shooting game. Tune up your smart skills of observation with your team strategy and attack the opposition with your loaded paintball gun to capture the flag within a time-frame.
Come and be a part of these tours to capture some new whispers, fresh perspective, adrenaline rush and joy along with your colleagues & friends!
Total Views: 2467 ,