7 Magnificent Places for Which You Must Visit Ooty Right Now
Often you've heard people planning or wishing to go to Ooty for once in their lifetime. And why not; the city rumbles for its beautiful sightseeing places, extravagantly peaceful lifestyle, cultural freedom, shopping hubs and breathtaking view of the amazing Nilgiri Hills.
Let me guess – you are already including this hill station for your next weekend outdoor trip. But, wait a minute! We are going to give you a few glimpses of Ooty that could make your itinerary rock solid. Here are 7 unique places to visit around Ooty:
Botanical Gardens
Located in the foothills of Dodabetta Peak, Ooty Botanical Gardens showcases the ounce of a colorful paradise with 650 species of flowers and trees. The garden was designed by William Graham Mclvor in 1847 and since then, maintained by the Tamil Nadu Horticulture Department. Earlier, it was established for the research, study, development and promotion of various floras around Nilgiri Hills. But later, it was opened for public as a park.
Spanned over 22 hectares of land, Ooty Botanical Gardens have been welcoming and introducing everyone with exotic and indigenous plants, shrubs, ferns, trees, herbal and bonsai plants. Just remember one thing – Plucking is frowned upon here!
Pykara Falls
In the monsoon season, the uniquely joint streams drop to rock bottom generating the rainy splash and the sound that can make your neighbours inaudible for a few minutes; Pykara Falls should always be in any nature lover's Not-to-Miss-Visiting list.
The fall is formed on Pykara dam with downstream fall of around 55 meters and 61 meters. The majestic view of the waterfall is so hypnotic that you may forget everything!
Madumalai Wildlife Sanctuary
Formed in 1940, Madumalai Wildlife Sanctuary is one of most attractive wildlife sanctuaries in South India with most diverse species of animals, birds, amphibians, reptiles and mammals. The sanctuary is situated at an altitude of 1,140 meters on Ooty-Mysore road.
Madumalai Wildlife Sanctuary is a part of Nilgiri Biosphere Reserve along with Bandipur National Park and Rajiv Gandhi National Park. The sanctuary is an abode to several endangered species like Elephant, Tiger, Gaur, Leopard, Deer, Wild dog, White rumped vulture, long billed vulture, Red crest, Mynas, Parakeets and Owls.
Emerald Lake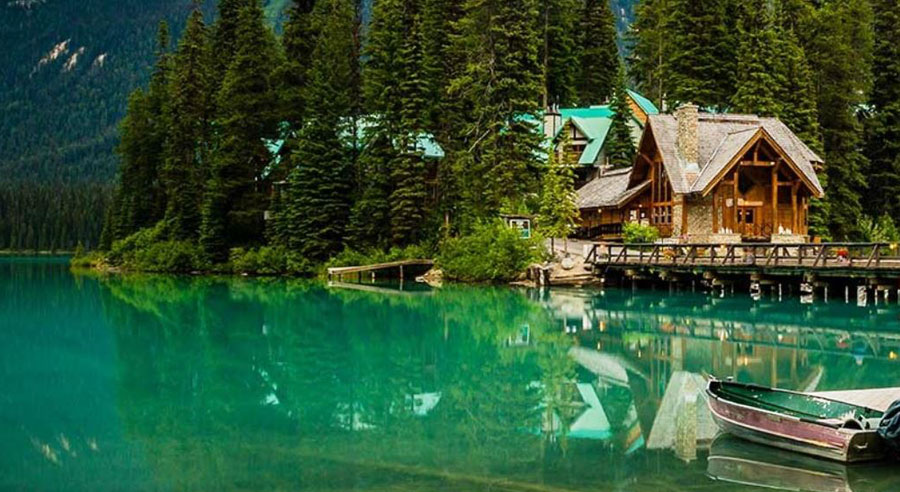 Emerald Lake is one of those places where anyone would like to build a dream house. The blue waters lake is situated near Emerald village surrounded by green meadows and dense forest. It is called as a min paradise for a variety of birds who may wander in the splendid view of the slopes of Nilgiris.
Apart from being a great bird-watching spot for photographers and researchers, Emerald Lake paints a beautiful picture at sunrise and sunset points. You can also walk around the tea estates for aromatic time.
Wax World Museum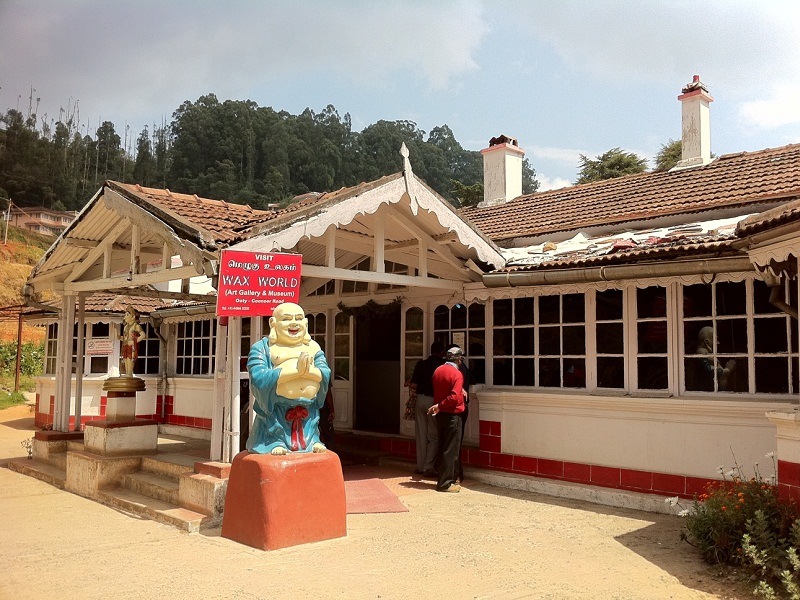 Since March 2007, Ooty became famous for establishing India's first wax museum. The Wax World Museum is one of its kinds in architectural and artistic value. The place carefully kept some exquisite wax statues of influential people of free India such as Mahatma Gandhi, Bal Gangadhar Tilak, Gopal Krishna Gokhale, Mother Teresa and A.P.J. Abdul Kalam.
Conceptualized by Shreeji Bhaskaran, the museum also presents the Indian lifestyle like Indian village with a man doing farming and pottery in wax replicas.
Raj Bhavan
One of the finest mansions of British time, Raj Bhavan represents the royalty and grandeur of 19th century. The cream-coloured building was built in 1877 on the instruction of the Duke of Burmingham who was the governor of Madras. He often comes to spend his summer in this mansion.
Visiting this mansion could give any history lovers an opportunity to discover many facts and truths about India.
Kotagiri
If you like to roam across tea estates, coffee plantation and green meadow, then Kotagiri trek would be the best destination for you. Located just 29 kms from Ooty, the place is situated at height of 1,793 meters in the vicinity of Nilgiris.
The trekking destinations have different routes and go for various regions like Kodanad, Catherine Falls, Longwood Shola, Elk Falls, Rangaswamy Peak and many more covering lush greenery, big landscapes, forests, high peaks, falls and meadows.
Now that you have a little idea of some unique places to see in Ooty, you can jump right into your travel book to open or create some thrilling travelling chapter of your life. Hope you have a nice time!
You can book one of our Ooty best camping places such as Kotagiri Camping for the amazing time. Our friendly team guides throughout the trip with all the technical and commuter supports.
Total Views: 2300 ,